WooCommerce is the most popular WordPress eCommerce plugin, and it comes with tons of extensions. Among all the free ones, we've hand-picked some of the best paid WooCommerce plugins.
The Best WooCommerce Extensions
In this article, I will help you improve your WooCommerce store with the 6 must-have WooCommerce plugins.
1. YITH WooCommerce Ajax Product Filter

WooCommerce product filter and widget apply the visitors to apply various filters. The users could use any combination of admin-defined criteria for product filters.
A powerful WooCommerce plugin: WooCommerce product filter widget, WooCommerce Ajax Product Filter lets you apply the filters you need to display the correct WooCommerce variations of the products you are looking for.
Choose among color, label, list and dropdown and your WooCommerce filtering search will display those specific products that suit perfectly your needs.
An extremely helpful WooCommerce plugin to help customers find what they really want.
All this can be done in a quick and very intuitive way that will certainly help your WooCommerce store improve in quality and usability.
2. YITH Woocommerce Request A Quote

YITH Woocommerce Request A Quote lets your customers ask for an estimate for a list of WooCommerce products they are interested in.
Quotations are one of the best ways to deal with certain types of purchases and it is very difficult to be played for online purchases.
YITH Woocommerce Request A Quote allows contact between suppliers and customers and sharing of the list of items for which the quote is requested. Customers can ask for an estimate and admin can answer them back with a quotation proposal.
3. YITH WooCommerce One-Click Checkout

There is no reason why your recurring customers should write again and again their billing details, or follow a standard procedure to purchase something from your shop: with YITH WooCommerce One-Click Checkout, all those users that have already saved their billing information will be able to purchase with just a simple click. Make your site experience faster and simpler, your users will just enjoy a purchase in a blink of an eye!
4. YITH WooCommerce Quick Order Forms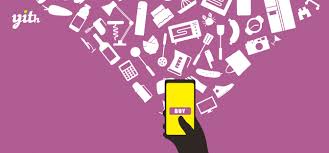 The philosophy behind the YITH Woocommerce Quick Order Forms plugin: to offer resellers the opportunity to buy it as easy, immediately and intuitively as possible. Making sure that every retailer has access to a product page shaped after their needs which can shows, for example, only the products that they are actually interested in or the ones that they most frequently buy. Make it even easier to search for specific products, let them choose the amount of products they want to buy, let them simply add the products to their orders with one click and staying on the same page, eliminating the unnecessary time spent waiting for different pages of your e- commerce to load.
5. YITH WooCommerce Recently Viewed Products

Customers are used to navigate in your site, looking at different products. What if you can store those searches and offer a rapid and comfortably way to your users to recover these pages? YITH WooCommerce Recently Viewed Products is a great way to bridge the gap between curious users and a better accessibility to the products of your shop: with its clear section, it will display all recently viewed products in single product page.
6. YITH Custom Thank You Page for Woocommerce

Install Custom Thank You Page for Woocommerce to set up a custom Thank You page to show to your customers after they complete an order. You can use any WordPress page of your choice and customize it as you prefer, so to give your own personal touch of style to the website and to fill a small gap in the purchasing process: saying thanks to them!