Divi by Elegant Themes is one of the best WordPress themes available on the market. Thanks to the modular builder; with its easy insert and highly customizable nature; Divi makes creating and maintaining a website easier than ever. However, sometimes Divi falls short as it has a few limitations.
In life, research is always a key factor in problem solving, but in this instance, save yourself the time, frustration and the effort of navigating through the millions of open tabs in your browser window. If you're developing websites with Divi, and are pushing out high volumes of builds for your clients, these are the top five best Divi plugins for you.
WHY SHOULD I USE A PLUGIN FOR MY DIVI WEBSITE?
Creating seemingly simple site changes on Divi might require hours of research. Also, implementing such changes could pose serious threats to your site (especially if you are not familiar with both CSS selectors or the makeup of a WordPress theme's core files). Whether you are a new user or a seasoned Divi developer (that could save a few hours with a few Divi-hacks), these must-have Divi plugins will help you streamline your workflow and supercharge your development process.
Thanks to a group of independent developers and development agencies; who have condensed years of knowledge of advanced CSS styling and JavaScript functions into easy-to-use tools; a collection of powerful plugins are available for use – specifically for websites running Divi. Not only will these plugins be able to spruce up both the appearance and functionality of your Divi website, but they'll also allow you to shave off hours from your development process and add additional value for your clients.
Divi Plugin – Divi Booster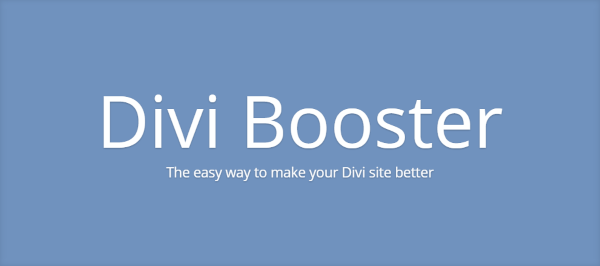 Divi Booster adds more than 50 configurable options to Divi. All of the tips and tricks from the Divi Booster website come together to create this plugin. Features are added on a regular basis.
Options allow you to change the look of just a single page while leaving the others untouched, keep the header from shrinking on scroll, change the height of a slider, change the logo link, make a slider image a clickable link, and lots more. Layout customizations allow you to place image above the header, add a sticky widget area, and make the main content overlap the header when using the box layout.
Footer customizations allow you to replace the footer text with your own text or HTML and center the theme info links. It also includes a CSS manager, developer tools, and it even enables the Divi Builder on custom post types.
Key features:
Adds over 50 configurable options
Free updates
Author takes requests for features
Pre-compiles and minifies its own CSS and JavaScript code
Features are easy to enable or disable as desired
Use on unlimited sites including clients
60 day money back guarantee
Purchase Divi Booster
Divi Plugin – Owl Carousel

Have you ever wanted to display posts, projects, custom post types, and images within a carousel using the Divi Builder? Posts and images are typically displayed within a slider, which displays one post or image at a time, but what if you wanted an actual carousel that displays multiple posts at once? You can do this easily with a plugin called Owl Carousel Pro.
Owl Carousel Pro is a third-party plugin that adds two new modules to the Divi Builder. The first displays post types such as projects, posts, and custom post types. The second is an image carousel compete with visual editor to add any type of content you want.
There is a free version of the plugin available. I'm taking a look at the pro version, which adds several new features including:
custom post types
display custom fields
custom query
change thumbnail size
change number of images shown
open image in lightbox
Purchase Owl Carousel Pro
Divi Plugin – Divi Switch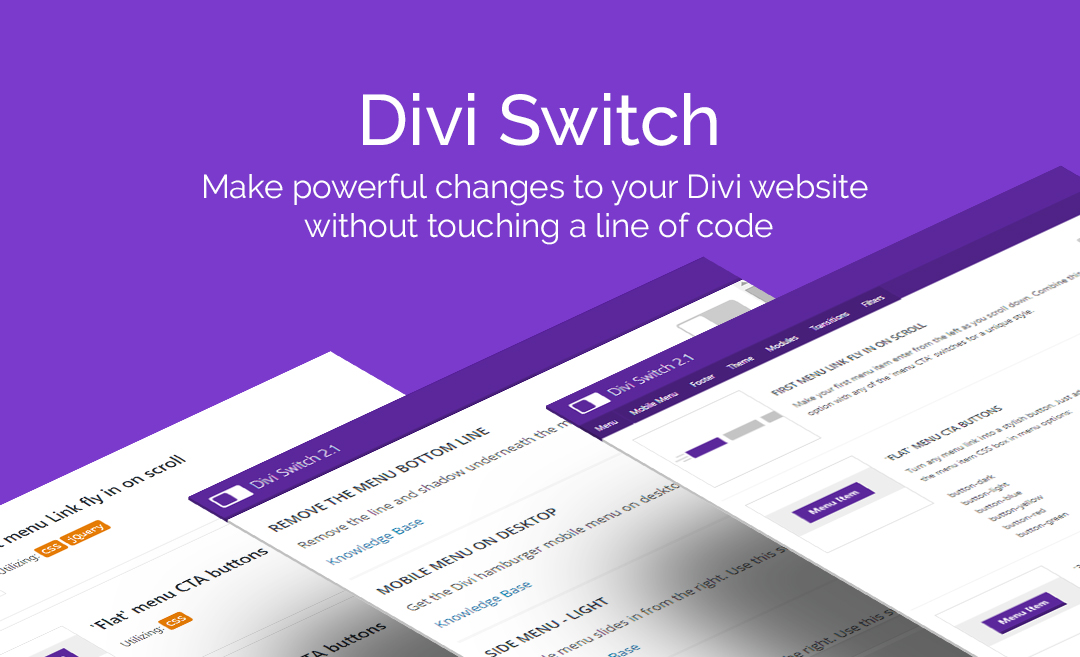 Often referred to as the 'Swiss army knife' of all Divi plugins, Divi Switch gives a web user the power to make impactful changes to their Divi website. Extremely easy to use, even for new Divi and WordPress users, Divi Switch offers over 50 toggles or switches that can be either enabled at the click of a button – or at the 'flick of a switch'. Each switch will produce a change in the Divi website's appearance, resulting in hundreds of site customizations in numerous combinations.
Where such site customizations would have either required the help of a developer or hours of investigation, tinkering and testing with code, Divi Switch allows the web user to achieve the desired look and feel for their website without ever having to touch a line of code.
You can hide the footer, center your top menu items, add animations to blurb icons, enlarge your header info, remove a counter when it hits zero, stop the lightbox activity, and lots more. It includes special code box styles and styles for Contact Form 7.
Key features:
50 toggles
100 customizations
Animations
Mobile menus on desktop
App style menu
Remove menu and sidebar lines and drop shadow
Unlimited sites for your own use
Purchase Divi Switch
Divi Plugin – Aspen Footer Editor
The Aspen Footer Editor plugin (previously the Divi Footer Editor) is an ultra-lightweight and powerful plugin that allows you to style out a site-wide footer to include your own custom text and credentials. Through the Aspen Footer Editor's WYSIWYG interface, you're able to add hyperlinkable custom text, graphics and video assets to your footer, and style each of the elements to suit any brand identity or aesthetic.
Why is the Aspen Footer Editor needed? To answer that let's take a look at the Divi footer editor and see what it can and cannot do and then we'll compare it with the Aspen Footer Editor and see what advantages it might have.
With a WYSIWYG interface; that mimics the default WordPress post or page editor; the Aspen Footer Editor allows you to easily add custom text of your credentials to your footer. As well inserting text and styling it with a font of choice, you're also able to add images – such as your logo – or videos directly into the footer area, and hyperlink all elements back to your site.
Key features:
WYSIWYG editor
Date auto-updates
Insert links
Add media
Social media icons and links
Link to documentation on screen
Unlimited websites
Purchase Aspen Footer Editor
Divi Plugin – Page Builder Everywhere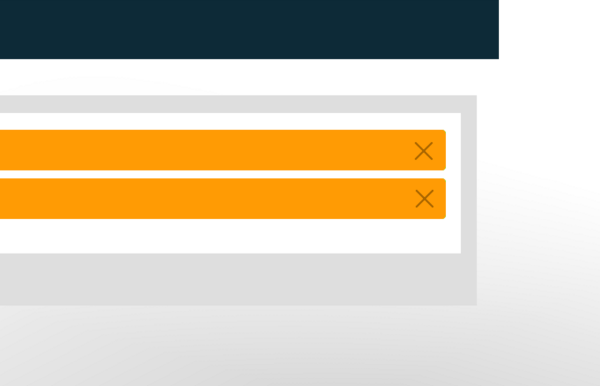 With the Page Builder Everywhere plugin, you'll be able to extend the reach of the Divi Builder plugin to outside of its standard scope to include the use of customizable modules in a range of new exciting areas, sections, and pages. From headers to footers and sidebars, 404 error pages and more, Page Builder Everywhere lets you use the Divi Builder in its normal state like never before
Use multi-layered logic to decide when and where your new layouts are shown. Show different sections for different categories or for logged in and logged out users. Different menus for different parts of your site? Easy!
If you know how to use the Divi Page Builder then you already know how to use this plugin. Just follow the installation instructions and then head to the Divi Library in the theme options to start making edits to your header, footer, sidebar and non-standard pages.
Placing things like opt-in forms, cookie notices or welcome messages above the menu just got super easy. Adding any one of the amazing builder modules absolutely anywhere is now possible in seconds.
Key features:
Adds 5 Page Builder sections
Works the same as Divi Page Builder
Includes standard customizer settings
Works with pages, posts, and projects
Responsive
Use on unlimited sites including clients
Purchase Page Builder Everywhere