Designing a solid wordpress website is a complex process. To pull it off just right, you need to know the ins and outs of your business, be certain about what your clients need, and understand how to fulfill those desires.
After buiding tens of websites using Divi, we want to go beyond that and talk about something a little more useful for you – Divi child themes.
If themes are the foundations upon which your WordPress house is built, think about these child themes as the finished product, all ready for you to move in as soon as you're done bringing in your furniture. Our list of five premium Divi child themes even features solutions for multiple themes. Let's take a look and see if any of them fit your needs!
Divi Child Theme for Magazine – Nouvelles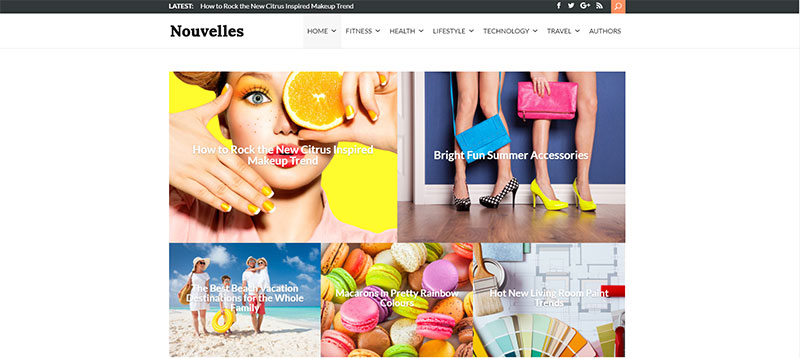 NOUVELLES is a premium Divi child theme designed for news and magazine websites. Nouvelles will help you get up and running quickly with a multi-author blog.
Finding a suitable user-friendly theme for your magazine website can be tough. Fortunately, NOUVELLES could be all you need for high-traffic websites, such as blogs and magazines, that frequently post across multiple channels.  It's just as easy for you to build a website with NOUVELLES as it is for your visitors to browse through the finished product.
NOUVELLES can be ideal for news-related websites with high traffic. It combines gorgeous elements with intuitive settings, and will enable you to build almost any kind of online publication. It's a child theme you should check out today!
Features of the Nouvelles Theme
Custom post layout, including tag support, author bio box, previous and next post links with images
Custom author page including author bio with social media links and excerpts of their articles
Custom authors archive page with bios of all published authors on the site with link to their author page
Custom archive, tag and search layouts
Custom slide-out search box in header
Custom scrolling 'recent posts' slider in header
Optional header adspace
Mega Menus using the Max Mega Menu plugin showing featured posts with thumbnails
7 different customized blog module layouts that you can mix and match to create your home and category page layouts, including posts images with slide up excerpts, and tabbed posts
Sidebar recent posts with thumbnail images
Easily change theme colours from within the Divi Theme Settings – no need to know how to edit a style sheet to change colours
Easy installation with one-click install of demo content
Comprehensive installation and setup instructions
Requirements
The Nouvelles child theme requires that you have the Divi parent theme for WordPress installed. It is not included with this product. This child theme has been tested with Divi 3.0.83+.
Divi Child Theme for E-commerce – RoyalCommerce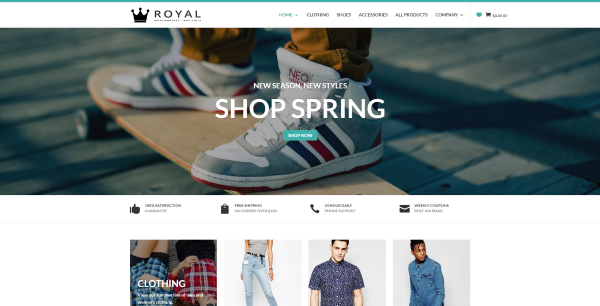 RoyalCommerce features a minimalist design that puts the focus on your products in a modern and elegant way, while bringing key eCommerce features to the Divi framework.
RoyalCommerce is an eCommerce theme from Time Strifler of Divi Life that was made for WooCommerce. Top online stores were analyzed in order to create a child theme with all the best features that users wanted. It uses a minimalist design so the focus is on the shopper's experience with the goal of increasing sales.
Choose from four designs with each having its own layout, colors, and fonts, and change all of the fonts and styles (including the integrated features) to suit your own branding. The Divi Logo Swap plugin is included. This is a great choice for any stand-alone online store.
Integrated Features:
Quick View: Quickly view product details/images, & add-to-cart without leaving the page
Product Carousel/Slider: Save precious screen real estate while being able to showcase lots of products
Wishlist: Keep your shoppers coming back to your website with the ability to save products to their wishlist
Product Image Zoom: Gives shoppers a closer look at your products in an intuitive way
Ajax Product Filtering: Filters products instantly without the page reloading
Sticky Shopping Cart: Always keep that cart in view on pages with a sidebar
Enhanced Header Icons: Keeps the wishlist and cart totals easily in view
Fixed Header on Mobile
Product Zoom on Hover
Gorgeous Banners: For Product Categories, Sales/Promotions, Product Collections, etc.
Divi Child Theme for Portfolio – Divi Bizz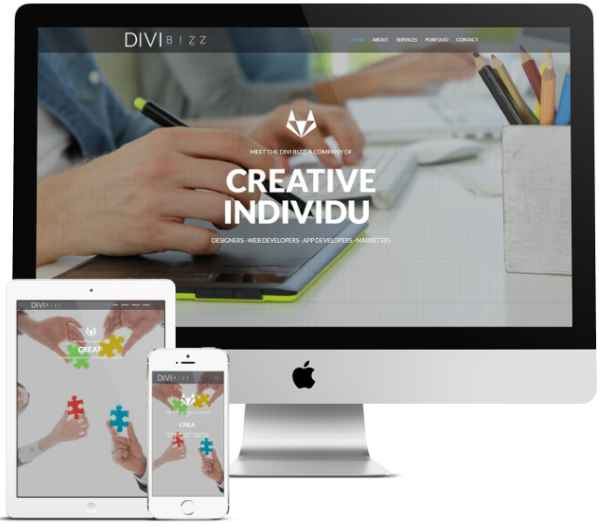 Divi Bizz is a business child theme with a specific focus on the portfolio. It includes lots of custom pages and lots of custom hover effects. The custom portfolio page has a background video, tiled portfolio with custom hover effects, and a footer with widgets and social icons. Each portfolio link takes you to a custom project page where the project is described and includes links to similar projects. This is a great choice for any type of design firm.
Key Features:
9 custom modules
6 custom pages
Custom icons
Typing effect
Custom forms
Background video
Parallax
Hover effects
Helvetica font
Divi Child Theme for StartUp – Startmetric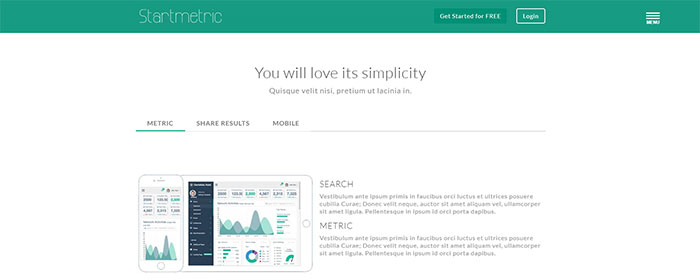 Startmetric is a modern-looking child theme targeted towards startups. Its design is focused on increasing conversions, and it features a minimalistic style.
The theme features its own back end menu, and two separate menus for your pages, so you'll be able to play around with their settings and create something that stands out from among other sites. As a conversion driven theme, it makes great use of calls to action throughout its pages, the Blurb module to expand on its unique features, the Testimonial module to build trust, and a simple pricing table example also constructed using Divi.
Key Features
Seven unique page layouts, including two different contact pages.
The back end menu includes its own design, which mimics the style of the child theme.
Includes several pricing table designs.
Optimized for mobile.
Divi Child Theme for e-Learning – Ventura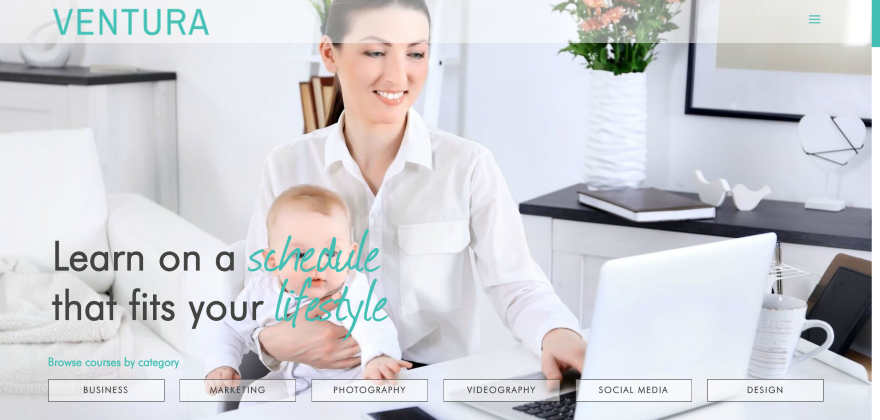 Ventura was designed specifically for use with LifterLMS. It comes with 20 pages which includes two different versions of the homepage and all of the LifterLMS pages to create and display your courses, a custom blog, and lots more. The LifterLMS pages include sample course pages to help you get started in your course design. It also has 3 custom Bloom opt-in forms. Category CTA's draw visitors to specific categories that interest them. Two premium plugins, Divi Layout Injector and Divi Taxonomy Injector, are included.
Key Features:
20 pages including two versions of the homepage, one for a learning platform and one for an individual
Webinars signup and replays page
Long form membership sales page
Join the community page
Instructor application page
Custom 5 column filterable library
Resources page
Custom blog layout
Affiliate sign up page
3 custom Bloom optin forms
Complete custom styling and layouts for LifterLMS
Custom fonts
Font Awesome integration
All colours set in the stylesheet for quick and easy replacement